Background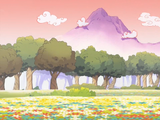 Bo-bobo has a dimension called Bo-bobo World (聖鼻毛領域; Bo-bobo Wārudo). Upon first glance, Bo-bobo World appears to be just a small clearing in the center of a forest, but it is here that Bo-bobo is completely in control of almost everything around him. This technique is used to baffle his opponents into submission to leave them open for attacks! A few of Bo-bobo's allies, such as Don Patch, Tokoro Tennosuke, King Nosehair, Dengakuman and Hanpen, can also participate in the nonsense that goes on in Bo-bobo World. The dimension will fade away when Bo-bobo believes that his opponent has had enough. Only Torpedo Girl and Bo-bobo's older brother Be-bebe has been able to resist the dimension.

Residents
King Nosehair
Main Article: King Nosehair
Ad blocker interference detected!
Wikia is a free-to-use site that makes money from advertising. We have a modified experience for viewers using ad blockers

Wikia is not accessible if you've made further modifications. Remove the custom ad blocker rule(s) and the page will load as expected.