De Mode City (デモーデ シティ, Demōde Shiti) is a location from the manga and anime series, Bobobo-bo Bo-bobo.
De Mode City

(デモーデ シティ, Demōde Shiti)
Debut (Manga):
Chapter 11
Debut (Anime):
Episode 6
Appears in:
Anime and Manga
Type of Location:
Residential
Leader:
Residents:
Background
A futuristic-looking city. It is one of the stops Bo-bobo makes after defeating some minor assassins. However, circumstances force Bo-bobo to leave De Mode City and quickly depart towards C-Block.
Residents
Ramen Master
(ソーメン老師, Soemon Roshi): An elderly Chinese master who teaches Bo-bobo a waterslide technique. In Bobobo-bo Bo-bobo Gag Fusion of the Nine Ultimate Warriors, there are more Ramen Masters who appear in the training area to the right side of Inafu Village.
Anime Appearances: 6
Manga Appearances: 11
Seiyuu:
Voice Actor:
Tokugawa Police
(ポリス徳川):
Anime Appearances: 6
Manga Appearances: 11
Seiyuu:
Voice Actors:
De Mode City's Children
(デモーデ シティの子供):
Parent and Child Rice Scoops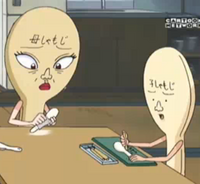 (しゃもじ親子, Shamoji Oyako)/Wooden Spoons:
Anime Appearances: 6
Manga Appearances: 11
Seiyuu:
Voice Actors:
Ko・N・Ni・Chi・Ha・Robo
(コ・ン・二・チ・ハ・ロボ, Ko・N・Ni・Chi・Ha・Robo):
Anime Appearances: 6
Manga Appearances: 12
Seiyuu:
Voice Actor:
Areas
Rice Scoops' Residence
(しゃもじ荘, Shamoji Sō):
Train Station
Trivia
References