Hajike Village (ハジケ村, Hajike Mura), also known as Wigginsville in the English dub, is a location from the manga and anime series, Bobobo-bo Bo-bobo.
Hajike Village

(イナフ村, Hajike Mura)
Debut (Manga):
Chapter 3
Debut (Anime):
Episode 3
Appears in:
Anime and Manga
Type of Location:
Residential
Leader:
None
Residents:
Don Patch
Hajike Gang
Background
Edit
A town where all the residents are hajikelists. Bo-bobo and Beauty pass though during the town's annual "Hajike Festival", where they first meet Don Patch and the Hajike Gang.
Hajike School
Edit
Residents
Edit
Don Patch
Edit
Main Article: Don Patch
Hajike Gang
Edit
Main Article: Hajike Gang
Shrimp Burger
Edit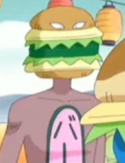 (エビバーガ, Ebi Ba-ga), also known as Avocado Burger (アボガドバーガー, Abocado Ba-ga) in the anime: A man with a shrimp burger for a head and "burger" (バーガー, Ba-ga) written vertically on his stomach. In the anime, his burger type is changed to avocado.
After Bo-bobo (inside of a giant burger) breaks down in tears that he'll never understand how a burger feels, Shrimp Burger shows up and tells him not to be so hard on himself. As Bo-bobo cries onto him, Shrimp Burgers continues to console him, telling him he did his best. However, Bo-bobo attacks him with his nosehairs, revealing that he was actually faking.
Townspeople Delegate
Edit
(その他の村人代表, Sonohoka no Murabito Daihyō):
(歩マン): A man dressed in a Shogi piece outfit. He tries to stop Bo-bobo and Beauty, but did not succeed.
Chinese Man
Edit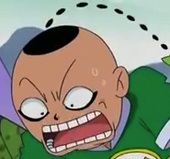 (中華マン, Chūka Man): A stereotypical Chinese man who runs on Beauty and asks her to marry him, until Bo-bobo rescues her.
Three Dynamite Brothers
Edit

(ダイナマイト3兄弟, Dainamaito San Kyōdai): Three brothers that are living sticks of dynamite. The oldest brother responds to Bo-bobo's hajikelist challenge, where he lights his own fuse on fire in an attempt to take him out, only for Beauty to point out that he's actually a firecracker. In the anime, instead of blowing up, he shoots up into the sky. Seconds later, he is seen falling out of the sky, while wearing a parachute and slowly lands inside of a nearby convenience store.
Teacher A
Edit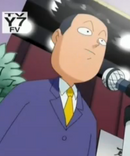 (教師A, Kyōshi A): Don Patch's teacher while attending Hajike School.
Hajike School Principal
Edit
(ハジケ学校校長, Hajike Gakkō Kōchō):
Other Hajikelists
Edit
References
Edit