Hajike Village (ハジケ村, Hajike Mura), also known as Wigginsville in the English dub, is a location from the manga and anime series, Bobobo-bo Bo-bobo.
Hajike Village

(イナフ村, Hajike Mura)
Debut (Manga):
Chapter 3
Debut (Anime):
Episode 3
Appears in:
Anime and Manga
Type of Location:
Residential
Leader:
None
Residents:
Don Patch
Hajike Gang
Background
Edit
A town where all the residents are hajikelists. Bo-bobo and Beauty pass though during the towns first annual "Party Party", where they first meet Don Patch

Hajike School
Edit
Residents
Edit
Don Patch
Edit
Main Article: Don Patch

Hajikegumi
Edit
Main Article: Hajikegumi

Avocado Burger Man
Edit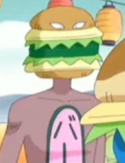 (アボガドバーガー, Abocado Ba-ga): A man with an avacado burger for a head. He has "Burger" (バーガー, Ba-ga) written vertically on his stomach. He tried to cheer Bo-bobo up when he failed to understand how hamburgers think, but Bo-bobo struck him down with his nosehairs.

(歩マン): A man dressed in a Shogi piece outfit. He tries to stop Bo-bobo and Beauty, but did not succeed.
Appearances:
Chinese Man
Edit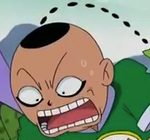 (中華マン): A chinese-looking man who runs on Beauty and asks her to marry him, until Bo-bobo rescues her.
Appearances:
Dynamite Brothers
Edit

(ダイナマイト3兄弟, Dainamaito San Kyōdai): Three brothers that are living sticks of dynamite. The oldest brother responds to Bo-bobo's hajikelist challenge, where he lights his own fuse on fire in an attempt to take him out, only for Beauty to point out that he's actually a firecracker. In the anime, instead of blowing up, he shoots up into the sky. Seconds later, he is seen falling out of the sky, while wearing a parachute and slowly lands inside of a nearby convenience store.
Teacher A
Edit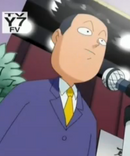 (教師A, Kyōshi A): Don Patch's teacher while attending Hajike School.
Hajike School Principal
Edit
(ハジケ学校校長, Hajike Gakkō Kōchō):
Other Hajikelists
Edit
References
Edit