Bobobo-bo Bo-bobo says, "I WANT INFO!"
---
This article is a stub and is missing information.
You can help The Bobobo-bo Bo-bobo Wiki by expanding it.
L is a character exclusive to the "Dasshutsu! Hajike Royale" Bo-bobo game.
L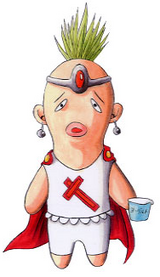 L (ェル) is a small, Dengakuman-sized human, wearing a red cape, and a tuft of green hair. He has a small red cross on his shirt. is occasionally seen riding an autobike. Though he serves as the final boss character, one would not assume he is much of a threat due to his pathetic appearance, that is, until he is fuses with J...
Powers
Attacks
Axel:
Wheelie (ウィリー):
L Storm (エル ストーム):
JeiL
JeiL (ジェイル; an obvious pun of the word Jail) is an evil fusion between L and J, who is the true boss of the video game. JeiL looks very much like a powerful and sinister version of L; JeiL has green spikey hair spread all over his head (looking a lot like Bi-bibi's hair), the cross on L's shirt is now a massive necklace, and L's cape has become a red vest. JeiL also wears a grey shirt, with grey jeans (the jeans have cages built into his right leg. JeiL also has chains strung all over his body, even his earings are small chains with large iron balls on the ends of them.
Powers
JeiL is the sole master of "Black Chain Shinken" (ブラックチェーン真拳,Burakku Tixeen Shinken; Fist of the Black Chain). This technique puts the numerous chains on his body to use, as he attacks his enemies with them.
Attacks
Random Chain (ランダムトルネード): JeiL sends chains flying in different directions.
Chain Tornado (チェーントルネード):
Metal Dragon (メタルドラゴン):
Trivia
Ad blocker interference detected!
Wikia is a free-to-use site that makes money from advertising. We have a modified experience for viewers using ad blockers

Wikia is not accessible if you've made further modifications. Remove the custom ad blocker rule(s) and the page will load as expected.