List of tertiary characters in Bobobo-bo Bo-bobo
Talk

0
Share
A list of characters in Bobobo-bo Bo-bobo, who have no real affiliation or alignment with any groups or locations, and whose roles and appearances in the series are pure random.
Maruhage Empire (Introduction Arc)
Kaori
(カオリ)/Cathy: Is Maitel's Ex-girlfriend, during the battle with Bo-bobo and Don Patch, Kaori calls Maitel and says that she's bringing her friends to their first date tonight, and tells him to bring three hot guys, Maitel was so upset that he forgot about their date, Bo-bobo tells Maitel that he can take him (and Don Patch), then he took Bo-bobo, Don Patch, and Game Boy Pig with him, at the restaurant Kaori and her friends where waiting for Maitel to bring three hot guys, Bo-bobo, Don Patch, Maitel, and Game Boy Pig, came in playing soccer as the girls where freaked out, then Bo-bobo and Don Patch ruins the date by using restaurant as a spa treatment, as Kaori and her friends leave as she tells Maitel to never call her again.
Kaori (Takashi's Mother)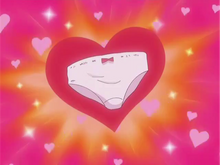 (カオリ)/Ursula:
Raccoon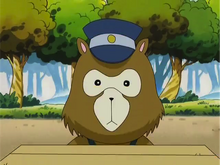 (アライグマ, Araiguma'):
Animals
Bunny Girls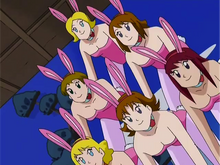 (バニーガール):
Clams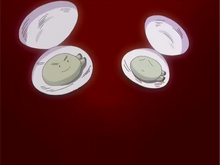 (しじみ兄弟):
C-Block's Aitsuhage Tower
Niwako
(にわ子, Niwako)/Extra Crispy: Contestant No. 3.
Rookie Keseran Paseran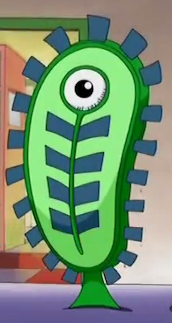 (新人・ケセランパセラン, Shinjin Keseran Paseran)/Mr. Cyclops Featherbrain Protozoa:
Eel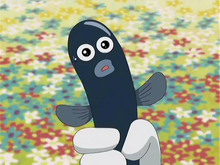 (ウナギ):
Mysterious Creature
(謎の生物, Nazo no Seibutsu)/: A squid-like creature who wants to be on the show so badly, yet Bo-bobo justs sits and ignores him. According to Don Patch, by not letting on the show, what Bo-bobo has actually done is let him on the show.
Weak Man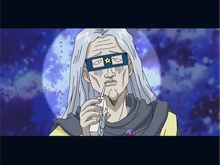 (貧弱マン, Hinjaku Man):
Alien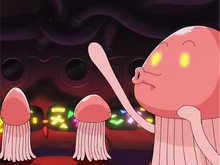 (宇宙人さん達, Uchū-jin-san-tachi):
Papilio Machaon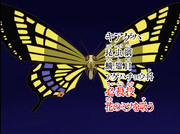 (キアゲハ, Kiageha): A Swallowtail butterfly (アゲハチョウ科). After Kabeo knocks Bo-bobo and Don Patch one floor down, the run into a butterfly that apparently proves to be too much of a formidable opponent for them to handle. To both their horror, the butterfly arrives at the top of the top floor, while Beauty finds this so ridiculous that she takes a nap.
The Iwasaki Family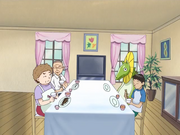 (岩崎家, Iwasaki-ka)/The Shneddly Family: A random family consisting of Yoshio (父岩崎良雄, Chichi Iwasaki Yoshio), his wife Masako Iwasaki (母岩崎マサ子, Haha Iwasaki Masako), their eldest son Hiroki Iwasaki (長男岩崎浩樹, Chōnan Iwasaki Hiroki), and a pet lizard. Their house is demolished by the landing of C-Block's Aitsuhage Tower.
Mr. KoKOnuts
Coconut Man
(ヤシの実マン, Yashinomi Man): The anime counterpart of Mr. KoKOnuts.
Northerner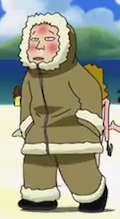 (北国の人, Kitaguni no Hito):
Southerner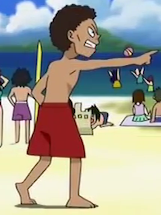 (南国の人, Nangoku no Hito):
A-Block Amusement Park
Pencil Case
(筆箱):
Rabbit Gang
Gunkan & Pomade Ring
Robo Yamada
(ロボ山田):
Scientist
Sumo.
Student girl.
Calimari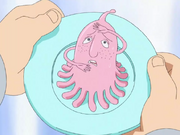 Sushi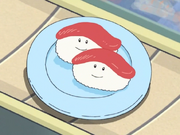 Female Pilot
Dragon
Apples
Orange
Hatenko, Purupu & The Blood Mansion
Tennis Players
Robo Block & Z-Block Base
Green Helicopter
Student
News Reporters
Yamashita
Joe Squidman:
Harimao-kun
Werewolf of the Waves:
Rubber Band-san
Robbie Rubber Band:
Re-zun Onna
Raisin:
Chibiko-san
Rita:
Hajike Block and the King of Hajikelists
Hatenko's "Family"
Jump-Box Step 15
Athelete Seat #15:
Old Man
S&D Teacup
Female Pigs
Mouse Police
OVER and the Joke Killer
Two Boys
Bridge Repair Guy
Disco Man
Hallelujah Land
Dog
Muscular Man
Shark
Tofu
Pudding Cup & Aspic
Flan & Sponge Cake:
Playgirls
Kangaroos
Beep's Pure Thoughts
Bo-Ninjas.
The Bo-Ninjas are a ancient secret order, who created the Boloni sandwich.
Giraffe
Alien Couple
The Alien Couple are two different gender aliens the blue one is a male, and the other is pink and a female, they where pushed both by a Bulldozer along with Don Patch and Halekulani, later the female alien dies as the others leave her behind (in the anime, she was better and went with them).
God of Bonito
Master Bonito:
Mercedes
Cyber City
Pure-Hearted Buck-Tooth Cop
Carrot Handler
The Former Maruhage Empire
Hamichin
Mr. Hamster: Is the tour guide of "The Supernatural Mystery 7 Traveler" (Dishonorably Unfair World 7-City Bus Tour: in the anime) at that point Bo-Bobo told him that he's wasn't coming, later, he was enraged because he left him behind.
John Smith
Mr. "Nu"
Rem's Family
The Playoff and the Reverse Maruhage Empire
Ad blocker interference detected!
Wikia is a free-to-use site that makes money from advertising. We have a modified experience for viewers using ad blockers

Wikia is not accessible if you've made further modifications. Remove the custom ad blocker rule(s) and the page will load as expected.