Major Antagonists
Edit
Main Article: Hisae and Roberto
Main Article: Nice Guy
Fake Uncle Goldfish
Edit
(偽金魚おじさん, Nise Kingyo Ojisan):
Main Article: Ars and Kick the MAME Old Man
Main Article: L
Minor Antagonists
Edit
Minor Enemies
Edit
Main Article: List of minor video game-exclusive enemies in Bobobo-bo Bo-bobo
Other Characters
Edit
Yo☆Shabu Tarō
Edit

(おーい☆しゃぶ太郎): A creature who has a fish head and a bird-like body. They are in charge of most of the shops and healing stands throught Bobobo-bo Bo-bobo Ougi 87.5 Bakuretsu Hanage Shinken. After you defeat Hisae, you fight one of them at A-Block in the bathrooms. They apparently speak with a Kansai dialect.
Floral Inoue
Edit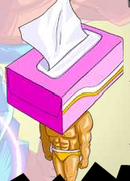 (フローラル井上):
体は人間、頭はティッシュ箱という不思議な姿をしている。不思議なのは姿だけではなく、技も謎に満ちているらしいが...。
Fake Serviceman
Edit
(偽サービスマン)
Ad blocker interference detected!
Wikia is a free-to-use site that makes money from advertising. We have a modified experience for viewers using ad blockers

Wikia is not accessible if you've made further modifications. Remove the custom ad blocker rule(s) and the page will load as expected.