This is a list of characters who are exclusive to the Bobobo-bo Bo-bobo video games developed by Hudson Soft.
Major Antagonists
Edit
Main Article: Hisae
Main Article: Nice Guy
Main Article: Earth
Main Article: L
Minor Antagonists
Edit
Flower Demon King's Four Heavenly Kings
Edit
Main Article: Flower Demon King's Four Heavenly Kings
Fake Uncle Goldfish
Edit
(偽金魚おじさん, Nise Kingyo Ojisan):
Attack:

Goldfish Technique - Goldfish (金魚奥義 ゴールドフィッシュ, Kingyo Ougi Gōrudofisshu):
Mr. Rose Fairy
Edit
(バラの妖精さん, Bara no Yōsei-san):
マネー・キャッスルの中で、中ボスとして登場するキャラだぞ。
7Fでハレクラニを守るように待っているバラの妖精さん。封印しながら全体にダメージを与える強力な奥義を持っているが、めったに使わないので、そんなに強い印象はない。ヒットポイントも高くないから、奥義をまぜた攻撃で倒せるぞ。
(ピエロン, Pieron):
Skull Reaper
Edit
(髑髏死神, Dokuro Shinigami):
Minor Enemies
Edit
Main Article: List of minor video game-exclusive enemies in Bobobo-bo Bo-bobo
Other Characters
Edit
Yo☆Shabu Taro
Edit

| Image | Hajike | Tsukkomi | Boke | Dash | Mame Earned | Location |
| --- | --- | --- | --- | --- | --- | --- |
| | ? | ? | ? | ? | ? | A-Block |
(おーい☆しゃぶ太郎): A creature who has a fish head and a bird-like body. They are in charge of most of the shops and healing stands throughout Bobobo-bo Bo-bobo: Nosehair Technique - Explosive Hanage Shinken. After you defeat Hisae, you fight one of them at A-Block in the bathrooms. They apparently speak with a Kansai dialect.
"We are opening stores and inns, so we can both properly help out and participate. When you happen to see us on your way, talk to us."[1]
Attack:

High-Speed Mandarin Fish Missle (高速桂魚丸ミサイル, Kōsoku Katsuragyomaru Misairu):
Floral Inoue
Edit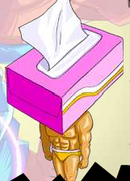 (フローラル井上, Furōraru Inoue):
"This mysterious figure possesses the body of a human and the head of a tissue box. It seems that not only is this figure mysterious, but its skills are also full of mystery..."[2]
Attack:

Tissue Butt Wipe (ティッシュケツフキ, Tisshu Ketsufuki): 不思議な力を持つ井上の技にはどんな効果が?
7 Million Man
Edit
(7億の男, 7 Oku no Otoko), a.k.a. Fake Serviceman (偽サービスマン):
"The legendary man, drawn just for the game "Hajike Festival"'s strategy guide. 8 years old!!"
Hajike Festival Original Characters
Edit
Apart from four enemy characters, a majority of the original characters in Bobobo-bo Bo-bobo Hajike Festival make random appearances throughout the game.
Princess Shichimi
Edit
(七味姫, Shichimi Hime):
しみる...しみるぜ、唐辛子の化身だ。七味を食わないと七味の刑!ソバ屋では要注意。
通常ステージ1の看板 / 通常・隠しステージ4の看板 / ステージ5真のエンデイングムービー / 目覚めた軍艦の後ろのカレンダーに登場
(アメリカ人, Amerika-jin):
中国人と見せかけ、アメリカ人。この顔で「平あやまり」技を出されたら許しそうだ。
ハジけバトルアニメの入力成功画面で首領パッチのパンティに登場
Onion Shoop
Edit
(鬼怨しゅーぷ, Onion Shūpu):
必殺技は鯉のぼり☆発射!だが、現在カゼひきさん。決めゼリフも「瀕死DEATH]。
ハジけバトルアニメの背景左下に登場
World's Strongest Tenpa GOOD
Edit
(世界最強の天パーGOOD, Sekai Saikyō no Tenpā GOOD):
地球を天パーで埋めた強いヤツだが、塩水を髪にかけられると死ぬ。しょつぱいもんね〜。
ステージ3導入ムービー/ムービー最後/特典DVDアニメスタジオゲストとして登場
Thundercloud
Edit
(雷雲, Raiun):
怒ると放電して電池ヤケ食い、関西弁でハリセン攻撃。ビュティによく殴られるらしい。
通常ステージ1に看板で登場
Capsule Monster V1 (Loser)
Edit
(カプセルモンスターV1(ハズレ), Kapuseru Monsutā V1 (Hazure)):
ハズレで捨てられたカプセルだが、人のポケットに忍びこむ。そういえば...あるぞー!!
ハジけバトルアニメにゅうにゅう攻撃の入力成功画面、割れた首領パッチの中に登場
Near Deadline
Edit
(しめきりまぢか, Shimekiri Madjika):
しめきりギリギリで応募している人だ。しめきりもトイレも、ギリギリ感がいいよな!?
ステージ3導入ムービー/「トモヒロ」と叫ぶところに登場
(タKoさん):
Feint Seiya
Edit
(フェイントセイヤ, Feinto Seiya'):
India Man
Edit
(インドマン, Indo Man):
Kimuchi Stadium
Edit
(キムチ球場, Kimuchi Kyūjō):
"Sports Best"(スポーツ最高, Supōtsu Saikō)
(いかダ, Ikada):
References
Edit