Bobobo-bo Bo-bobo says, "I WANT INFO!"
---
This article is a stub and is missing information.
You can help The Bobobo-bo Bo-bobo Wiki by expanding it.
Nice Guy (ナイスガイ) and Miaasadaharu (みゃーさだはる) are two video game characters who are exclusive to "Bobobo-bo Bo-bobo Ougi 87.5 Bakuretsu Hanage Shinken".
Nice Guy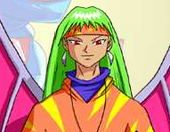 Background
A green haired youth, with orange clothing and devilish looking wings on his back, Nice Guy is one of the Four Heavenly Kings of the Devil's Flower Castle, who constantly mentions that the fangirls love him. He attacks by convincing his opponents that he is more popular than them.
犬好きのいいヤツ。しかし人の名前を覚えられず、彼にとってすべての他人は田中となる。自称で「超色男」って言ってるところはムカつくが、その強さは頼りになるぜ!!
Attacks
Sayonara Tanaka (さようなら田中):
Sayonara Skull Universe (サヨウナラ ドクロウ ユニバース):
Miaasadaharu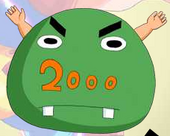 Background

Similar to OVER, Nice Guy has a transformation. His true form is a living, bucktoothed jellybean, named Miaasadaharu. He attacks solely by making his opponents eat too much valentines day chocolate and get fat.
「超色男」の真の姿。「ゲルボウティン」と呼ばれ恐れられているが、なぜそう呼ばれているのか実はオレたちも知らない。「2000」と描いてある部分は顔ではなく体だ!!
Attacks
Ear Cleaning 2000 (耳そうじ2000): Miaasadaharu grows bigger and spins into the opponent.
History
Trivia
Nice Guy seems to resemble Nanashi from Marchen Awakens Romance.
Ad blocker interference detected!
Wikia is a free-to-use site that makes money from advertising. We have a modified experience for viewers using ad blockers

Wikia is not accessible if you've made further modifications. Remove the custom ad blocker rule(s) and the page will load as expected.