Introduction
Hair Hunter Entrance Exam Site
(面校会場):
Karasu
(The Bird Brain) He is a rival that Don Patch knew years ago. During those years, Don Patch was once a shogi master. But that all changed one day during the National Boy's Shogi Meet. Just as Don Patch was about to become champion, Karasu showed up as his final opponent and beat him in the shogi match. From there on, Don Patch stopped playing shogi. Years later, Don Patch would encounter him at the Hair Hunter Entrance Exam Site, where he would also apply to become a hair hunter. During the examination, Karasu points a gun at Pagya and the other two examiners, revealing that someone sent him out a mission to take them down. He is then knocked out by Don Patch.
Anime appearances: 16
Manga appearances: 33
Voice Actor:
Pagya

The new examiner of the Hair Hunter Entrance Exam Site. He once won 57th place in a "Saying Aah In Front Of An Electric Fan" contest. He also enjoys reading the manga series, Ninku.
Anime appearances: 16
Manga appearances: 33
Voice Actor:
Purupu's Minions
Lamune
Lamune (ラムネ, Ramune) is a minor character from the anime and manga of Bobobo-bo Bo-bobo. She is seen after she and her partners decimated Iguana Town. She is called Lemon Fizz in the English anime dub. Her name is the same as a Japanese lemon soda.
Lamune is a beautiful green haired girl, wearing orange armor with a pink dress underneath. She is one of Purupu's two assistants, the other being Kinen. Her boss claims that she is stronger than Gunkan...yet loses easily to Don Patch!
She very closely resembles DragonBall Z's Zarbon, Frieza's right-hand man. Her close qualities include long green hair, loose clothing, armor that looks like a saiyan's armor, and her assisting of Purupu who is a parodied version of Frieza in his first form.
Out of all the trio, Lamune is the only one to show any sort of power; in the manga, she easily forced her hand through one unlucky soldier's body, while in the anime, this was changed to her being able to fire blue energy blasts from her hands. This scene was removed from the anime dub because of the shows time limit.
She may have a secret crush on Hatenko (taking into account that she only accepted his "love letter").
During her introduction, she and her comrades have shaved the residents of Iguana town within a matter of minutes. When the trio meet the rebels, both Bo-bobo and Don Patch give her love letters, but she rips them up right in front of them without even reading them! When Hatenko gives her one, she blushes and reads it,... only the letter is demanding that she return a Saint Seiya volume number 15 (in the anime, it is demanding Bo-bobo number 5 back)! Afterwards, after Don Patch defeats Kinen, he attacks Lamune, sending her flying into the roof of a nearby house.
Lamune is not seen besides Purupu or Kinen during the New Emporer Playoffs arc. Both made it to the finals, and it can be assumed that she either got eliminated early, or chose not to participate. This turns out to be good luck on her part, as the two are later sacrificed to the Reverse Maruhage Empire (though they are both revived later).
Lamune can be seen at the end of Shinsetsu Bobobo-bo Bo-bobo, alongside Purupu and Kinen. The three are attending Tokoro Tennosuke's Maruhage Reunion.
Anime appearances: 22, 70, 75-76
Manga appearances: 51-52, 196-196.5, Shinsetsu 73
Kinen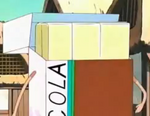 (禁煙, Kinen) He is called Chocochocotto (チョコチョコット, Chokochokotto; Chocolate Munchie in the dub) in the anime due to censorship.
Kinen is one of the assistants of Purupu, the other being Lamune. In the manga, he was a walking box of cigarettes who's name was "No Smoking" in Japanese, with the words "Mild Eight" written vertically on his left side and "Super Right" written on his right side. In the anime, he was made into a tamer box of chocolates.
Regardless of either version, he was seen at Iguana Town alongside his two partners after the massacre. He possesses a burning hatred for Don Patch, who at one time snitched him out at school for doing bad things. Despite his desire for revenge, Don Patch defeats him with no effort. Kinen is later used as a sacrifice by the Reverse Maruhage Empire after losing in the new emperor playoffs. He returns to normal after the reverse empire is defeated.
Kinen, alongside Lamune and Purupu, is seen in the last chapter of Shinsetsu Bobobo-bo Bo-bobo, attending Tokoro Tennosuke's Maruhage reunion.
He is another character like Killalino whose design and even name had to be changed between the manga and the anime.
Anime appearances: 22, 70, 75-76
Manga appearances: 51-52, 176, 178, 196, Shinsetsu 73
Voice Actor: Michael Sorich
Tsuru Tsurlina IV's Minions
Mako-chan

Mako-chan (マコちゃん) is an alien that gets married to Tsurulina, yet is merely seen most of the time off-camera as its tail sucks out the brain of the leader of the "Bald Empire".
Anime appearances: 23, 51-55, 75-76
Manga appearances: 196.5
Octopus Carl
(オクトパスカル, Okutopasukaru)/Octopuscal: Octopus Carl is a tiny octopus assistant to the 4th, usually seen riding on his shoulder and sending out his boss' orders.
Episode appearances: 51-55, 57, 72, 75-76
Manga appearances: 196.5
Voice Actor: Anthony Pulcini
Other Members
Killalino & Takashi
Main Article: Killalino and Takashi
Puppetman

Puppetman (パピットマン, Papittoman): A member of L-Block, Puppetman looks like a large "Lego" person with a star on his chest. He attacks solely through the constant flailing of his arms. He is first seen looking for Bo-bobo after the fall of C-block. When he finds him, Bo-bobo forces Heppokomaru to fight Puppetman...without using Onara Shinken. He makes quick work of Heppokomaru, but Bo-bobo himself ends up defeating Puppetman... with the "Fist of the Tissue Box Shoes".
Attacks:

Toy Chachuche (おもちゃのチャチュチェ): Killalino, Usa-chan, and Puppetman charge and fly into the opponent.
Episode appearances: 11
Manga appearances: 20
Seiyuu: Shinji Kawada
Voice Actor: Michael Sorich
Kuunyan

(空ニャン, Kūnyan): An odd looking assassin with spiked up hair, long eyelashes, and a very long nose. He was sent by Tsuru Tsurulina IV to assassinate/test Bo-bobo and his team on an airplane prior to entering the New Emperor Playoff's. Unfortunately for him, Bo-bobo proved to be too strong for him, and he was defeated easily.
Kuunyan is the master of Parachute Shinken (パラシユ-ト 真拳; "Fist of Parachute"). This technique can be used to create parachutes wherever he wants. The parachute's can be used as a very effective handicap on his enemies; on the plane, he originally attached parachutes to Bo-bobo's team, and was planning on letting the intense air currents blow them off the edge. He can also use the parachutes' as a shield for incoming projectiles.
Attacks

Full Body Umbrella (無情体空傘, Mu Jō Tai Kū Kasa): He makes a parachute grow out of the enemy's back and can also increase the number of parachutes attached so they get blown away by a strong wind.
Passing Wind: He uses a giant fan to blow wind at the enemy releasing tansparent shockwaves blowing them away with the parachute.
Parachute Blockade: He makes a parachute grow out of his front to act as a shild and an attack just bounces off it hitting another person.
Other Status

Episode appearances: 70
Manga appearances:
Mogura

(モグラ): Riding alongside Kuunyan's airplane, this humanoid mole first gives the announcement of the Maruhage New Emperor Playoffs to those chosen to participate. He is shortly taken down and tied up. He later appears at the playoffs selling badge holders for 500 "moles".
Anime appearances: 70, 73
Manga appearances:
Voice Actor:
Samugarin
The former vice-leader of D-Block.
Ad blocker interference detected!
Wikia is a free-to-use site that makes money from advertising. We have a modified experience for viewers using ad blockers

Wikia is not accessible if you've made further modifications. Remove the custom ad blocker rule(s) and the page will load as expected.