Introduction
2002
2003
Favorite Character Poll
Don Patch - 1st Place, 1893 Votes
Dengakuman - 2nd Place, 1708 Votes
Tokoro Tennosuke - 3rd Place, 888 Votes
Bobobo-bo Bo-bobo - 4th Place, 564 Votes
Heppokomaru - 5th Place, 553 Votes
Beauty - 6th Place, 406 Votes
Softon - 7th Place, 246 Votes
Serviceman - 8th Place, 184 Votes
Hatenko - 9th Place, 146 Votes
Rice - 10th Place, 139 Votes
KoPatch - 11th Place, 130 Votes
Torpedo Girl - 12th Place, 117 Votes
Kouga Civilization - 13th Place, 113 Votes
King Nosehair - 14th Place, 90 Votes
BoboPatch - 15th Place, 82 Votes
Suzu - 16th Place, 78 Votes
Pickle - 17th Place, 69 Votes
Game Boy Pig - 18th Place, 66 Votes
N&Ns - 19th Place, 61 Votes
Haoh - 19th Place, 61 Votes
Character You Would Like To See Again Poll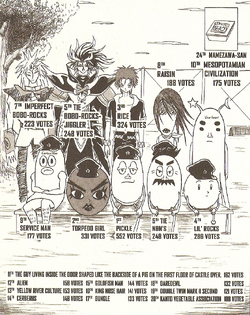 Pickle - 1st Place, 552 Votes
Torpedo Girl - 2nd Place, 331 Votes
Rice - 3rd Place, 324 Votes
KoPatch - 4th Place, 286 Votes
N&Ns - 5th Place, 248 Votes
Bobopatchnosuke - 5th Place, 248 Votes
Incomplete BoboPatch - 7th Place, 223 Votes
Raisin - 8th Place, 188 Votes
Serviceman - 9th Place, 177 Votes
Mesopotamian Civilization - 10th Place, 175 Votes
"The Guy Living Inside The Door Shaped Like The Backside Of A Pig On The First Floor Castle Over" - 11th Place, 162 Votes
Alien - 12th Place, 158 Votes
Kouga Civilization - 13th Place, 153 Votes
Ceberus - 14th Place, 148 Votes
Old Goldfish Man - 15th Place, 144 Votes
King Nosehair - 16th Place, 141 Votes
Bungle - 17th Place, 133 Votes
Daredevil - 18th Place, 132 Votes
Bobobo-bo Bo-bobo WT Mark II - 19th Place, 121 Votes
Kanto Vegetable Association - 20th Place, 108 Votes
"Mamezawa-san - 24th Place
2004
The Rebels
Don Patch - 1st Place, 4554 Votes
Heppokomaru - 2nd Place, 1351 Votes
Tokoro Tennosuke - 3rd Place, 1291 Votes
Dengakuman - 4th Place, 1038 Votes
Beauty - 5th Place, 832 Votes
Bobobo-bo Bo-bobo - 6th Place, 797 Votes
Hatenko - 7th Place, 760 Votes
Torpedo Girl - 8th Place, 677 Votes
Softon - 9th Place, 444 Votes
Maruhage Empire Members
Rice - 1st Place, 1478 Votes
Kancho-kun - 2nd Place, 1169 Votes
J - 3rd Place, 579 Votes
Lambada - 4th Place, 426 Votes
Despair-kun - 5th Place, 409 Votes
Gunkan - 6th Place, 395 Votes
Ruby - 7th Place, 381 Votes
Ujikin TOKIO - 8th Place, 373 Votes
6 - 9th Place, 366 Votes
Ochazuke Alien - 10th Place, 359 Votes
Other Characters
PatchBobo - 1st Place, 1071 Votes
KoPatch - 2nd Place, 873 Votes
Serviceman - 3rd Place, 802 Votes
Pickle - 4th Place, 648 Votes
Denbo - 5th Place, 645 Votes
Bobopatchnosuke - 6th Place, 547 Votes
King Nosehair - 7th Place, 533 Votes
Suzu - 8th Place, 487 Votes
Ya-kun - 9th Place, 439 Votes
BoboPatch - 10th Place, 365 Votes
Trivia
Since 2002, Don Patch has won the popularity contest three consecutive times in a row.
In Episode 68, the results of the 2004 popularity contest is shown as part of Tsuru Tsurulina III's attack, "Magic of the Darts".
Ad blocker interference detected!
Wikia is a free-to-use site that makes money from advertising. We have a modified experience for viewers using ad blockers

Wikia is not accessible if you've made further modifications. Remove the custom ad blocker rule(s) and the page will load as expected.