T-500 (ティ-500) is a character from Bobobo-bo Bo-bobo. He resides in Hallelujah Land.
Background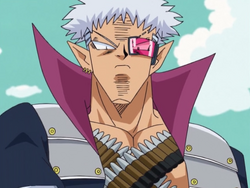 T-500 is a parody on the T-800 from The Terminator. He is a cyborg who has a scouter built into his eye that reads power and ability, and wields two large guns. He is a member of the Halekulani's Hell Killers.
T-500 first attacks Don Patch after he takes over a "Spandex Rangers" (parody of the tokusatsu genre in japan, featuring brightly colored heroes in costumes and colorful explosions) stage show in Hallelujah Land. His only mistake when confronting the demented creature is saying that he is "part of" the Bo-bobo group, a fact that enrages Don Patch to the point where he claims to be the main character of the series instead of Bo-bobo.
He then proceeds to assault the cyborg mercilessly with a string of hajike attacks, confusing the cyborg and making his scouter useless! Don Patch then knocks him out with "Fist of Bruce Lee". However, to those watching, it was merely part of the show. Before passing out, T-500 believes that Don Patch is the main character and states then next time he will attack a lesser known hero.
Attacks
Death Cannon Revolver (デスキャノン・リボルバー)/Colossal Cannon Revolver:
10,000 Push-ups (腕立て1万回): Combat Blues, Captain Ishida, and T-500 make the opponent do 10,000 push-ups. Used in Bobobo-bo Bo-bobo Dasshutsu! Hajike Rowaiaru.
Trivia
In the anime, T-500's scouter eye is replaced with a scouter similar to the ones found in Dragonball.
Other Status
Episode Appearances: 38
Seiyuu: Shintaro Ohata
Voice Actor: David Lodge
Ad blocker interference detected!
Wikia is a free-to-use site that makes money from advertising. We have a modified experience for viewers using ad blockers

Wikia is not accessible if you've made further modifications. Remove the custom ad blocker rule(s) and the page will load as expected.